Honeywell VR420AF10081000 -combination valves with servo
Valves VR420AF10081000used to control and regulate the flow of fuel gas to the gas power burner, gas low pressure boiler, furnace, incinerator installation, and other devices, operating on gas.
Series VR420AF10081000is standard equipment, with two main valve V1 and V2. Safety valve V1 is always made in a way that allows rapid opening/closing. The second valve (V2) can be either quick or slow (=with flow control open). The pressure regulating valve is located between V1 and V2.
Series VR420 can be used for direct main burner ignition (DBI) and an electronic ignition pilot burner (IP). On both sides of the main body has four flange connections for installation: · pressure switch input channel series C60VR · Relay intermediate pressure series C60VR · System check valve (VPS) + pressure switch.
Features of gas valves Honeywell VR420AF10081000:
- Main body with two stop valves with a single seat.
Additional opportunities for installation with flanges, low pressure switch and/or relay intermediate pressure.
System check valve (VPS)
- The possibility of replacing the coil.
- On coil can be supplied with constant excitation
- Fine mesh filter between the input flange of the channel and the main body.
- The main building has multiple points of selection pressure that can be used in the case if you have not installed additional valves or pressure switches.
- The second main valve with quick opening or throttling mechanism of the opening process (slow) with adjustable maximum flow rate and step pressure change.
- Replaceable transducers
The plug - in connector conforms to DIN 43650.
- All the fixtures for adjustment are located on top of the valve.
- Different pressure ranges.
- Can be used in conjunction with two-stage electric stabilizer.
- Can be used to modulate the gas/air.
Open time - the Maximum delay time is 1 second.
The first valve (V1) opens in less than 1 second.
The second valve (V2) can be either a fast opening valve, which reaches 50 % of the set pressure at the output for 50 seconds after the start of operation, or a valve with adjustable opening speed, which can be adjusted from 1 to 30 seconds at rated capacity.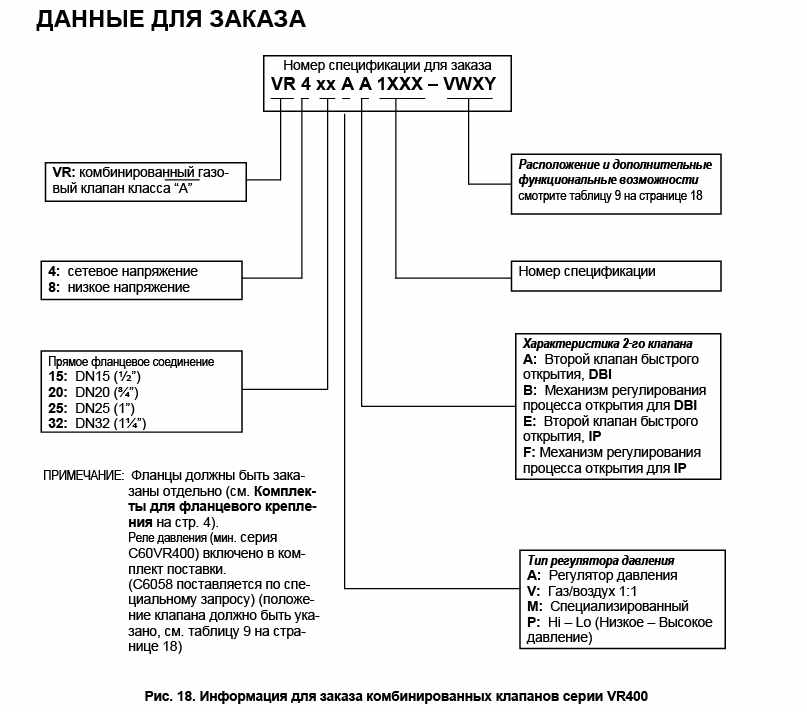 UNIVERSAL GAS VALVES VR400 VR800